The home security industry is a crowded space. How do you choose between the dozens of alarm monitoring providers out there?
They all claim to do a lot of the same things, and if you haven't read any of their reviews yet, it's hard to tell what features one company has and another doesn't.
To narrow down your options, we recommend that you ask yourself the following questions to determine what you want, then ask the same questions of every sales rep:
Q: Does the system require a landline or can it communicate via cellular or Wi-Fi channels?
A: Some systems communicate with the central station either over the internet or using cell towers, just like your mobile phone.
Some systems even let you communicate over both channels (a dual-path system), so that if one options fails or is disrupted, the alarm signal will still go through to the central station.
Q: Does the company run their own central station or do they outsource it?
A: Outsourced central stations are a common problem across 90% of the industry. When a business has millions of customers, they're not as invested in troubleshooting each person that calls in.
If you've ever called into ADT's or Comcast's customer service line, you know exactly what I mean.
Plus, it creates accountability issues: which phone number do you call if your alarm system isn't working correctly? The monitoring company? The alarm company? Or the dealer that sold you your specific equipment?
Q: Is the system hardwired or wireless?
A: This matters for two reasons — flexibility and mobility.
A hardwired system means a more complex and expensive installation process. You've got to get an electrician to map out the whole network and then pay more people to install it.
Even if you're good with tools, installing a hardwired system can be time-consuming and tedious. If you ever want to relocate, ripping the whole system out of the walls will be a major endeavor.
A wireless system, on the other hand, is designed for simple setup and easy transportation. Simple systems can be up and running in 30 minutes to an hour on your own (or with technical support from your alarm company).
Q: Does the company use in-house professional technicians and customer support?
A: If you're inviting people in your home to protect it, those individuals better be well-trained employees – not contractors. Make sure they're fully certified and background-checked so that you can be confident that they put your system together the right way.
Jonathan, one of our best security technicians.
When your alarm is having issues, you need someone who can get there right away. Larger companies operate through system dealers, many of which have customer service that's painfully slow, long hold times, and inconvenient scheduling.
Q: Do I own the equipment or am I renting it?
A: Many companies design their security equipment so that if their customer cancels their contract, it won't work at all.
To make matters worse, you're still paying a lot upfront for equipment that is probably refurbished.
This cannot be emphasized enough: avoid any company that sells proprietary equipment. The equipment you buy should be a long-term investment.
Q: Do I want the capability of adding smart home automation?
A: You may not want smart home automation right now, but it's better to leave that upgrade path open. Otherwise, you have to sink a lot of money into a new system if you ever decide you want things like smart lighting and thermostats.
Q: Should I save money and install it myself or have the pros do it?
A: With most wireless systems, almost everyone is capable of doing a self-installation with a little help from tech support. For those who don't have time or would prefer to leave it to the experts, professional installation is definitely worth the cost.
Q: Can I control the system via an app and why would I want to do that?
A: If you use a smartphone, having an app to control your security system gives you a great deal of flexibility and full control of your home, wherever you are.
Your smartphone essentially becomes a remote control, enabling you to do any of the following, anywhere, anytime:
Arm and disarm the alarm
Switch lights on and off
Communicate with people at the door or inside your home
Receive notifications when kids get home from school
View multiple "live" feeds from your cameras, anytime
Adjust the thermostat to the perfect temperature
Ideally, you should have one app that does it all: security and automation.
Q: Why do some companies have a long-term contract and others do not?
A: With a contract, you can get a quality security system at a lower cost since the company is essentially subsidizing the system so that you stick around longer.
This is similar to the way a telecom company can offer you a $1,000 smartphone for $200 if you sign a 2-year contract.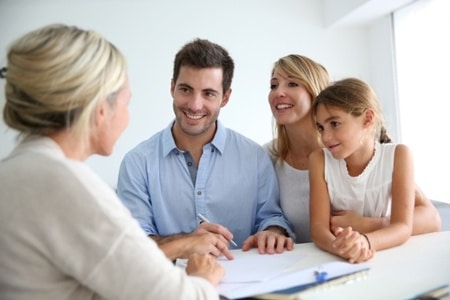 With no-contract deals, you have to buy the whole system at the full manufacturer price.
To continue with the smartphone comparison, you'd have to pay $1,000 upfront to buy the device. The benefit of this is that it you don't have to commit to a contract.
What makes one alarm company better than another?
Home security system features are important, but you also have to consider the central station that will be monitoring your home, quality of the customer service, and technical support of the hardware or software.
Here's what matters most when choosing an alarm company:
Response Time
Response time could mean the difference between police catching your intruder or showing up two hours later. Or maybe the difference between a singed sofa or and a pile of smoking rubble that was once your house.
In some cases, it could even mean the difference between life and death. Ask your prospective security company what their average response time is to an alarm; anything under 15 minutes is ideal.
If you live in a log cabin in the middle of the woods, police will take a little longer to get to you.
A home security company that also controls the monitoring service will provide far more than just the technology inside your home.
Locally Operated
This is also a good question to ask yourself when narrowing down your list of home security companies: where is their central station located?
Some companies use a central station that is in another state or even in a completely different time zone.
If the central station is located out-of-state, try calling them. Talk to the operators, ask them questions, and get a feel for whether you think you can trust them with the safety of your property.
UL-Listed
Being UL (Underwriters Laboratory) Listed is essentially the gold standard when it comes to central stations. This means that they have to meet certain standards such as operating 24/7, never losing power, and protecting the station from outside intrusion.
If the central station of a home security monitoring service is not UL-listed, it does not meet fundamental security standards. That's a huge threat to your safety and could also disqualify you from insurance discounts that come with having a home security system.
All these things are absolutely essential to keep in mind when searching for the right security company.