Tired of scheduling your life around guests' arrival times or getting locks rekeyed when guests misplace the keys? Smart locks offer a simple solution to people who manage vacation rental properties. By using smart locks, you can facilitate self check-in and checkout for your guests by using passcodes that expire when your guests check out.
Plus, an electronic lock makes your Airbnb rental more secure: Some models connect to your smartphone and smart home devices, allowing you to monitor who comes in and out of your rental.
Best Smart Locks for Airbnb
With a smart lock you can save time and money from not having to physically meet someone for check-in. Plus, offering self check-in via a smart lock can make your Airbnb rental more appealing, meaning your listing will attract more bookings.
It's easy to get overwhelmed with all the different types of smart locks out there, so here's a shortlist of some of our favorite smart locks for Airbnb rentals on the market right now.
The August Smart Lock Pro + Connect is one of the best smart locks for Airbnb because it attaches easily to a deadbolt. This lock can be operated with your smartphone and is compatible with Amazon's Alexa system, which lets you control your front door using your voice.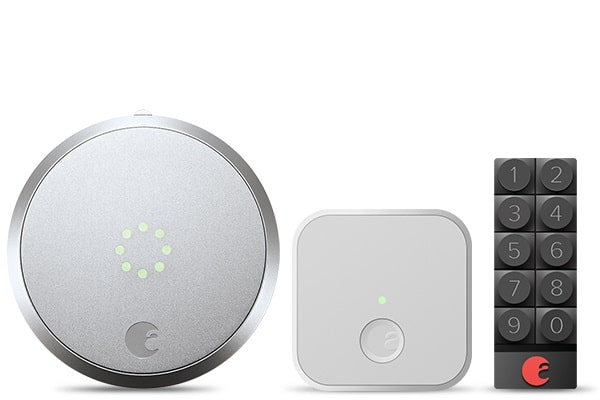 The lock is incredibly feature-rich. It comes with August Connect Wi-Fi Bridge for connectivity to a smart hub. It also has a locking mechanism that allows it to automatically lock and unlock your door and will let you know if your door is secured with DoorSense.
You can control and monitor your door from anywhere with the August Smart Lock Pro + Connect. You can keep track of people who come in and out of your door by checking your smartphone.
What we like
Can easily be installed in 10 minutes with a screwdriver
Auto lock and unlocking mechanism
Compatibility with apps (compatible with Amazon's Alexa)
What we don't like
Higher price tag than average for smart locks
Some features require additional purchases
The Nest x Yale smart lock is one of the best locks on the market, but it comes at a hefty cost. The biggest issue with the lock is that you are somewhat limited to the Nest ecosystem.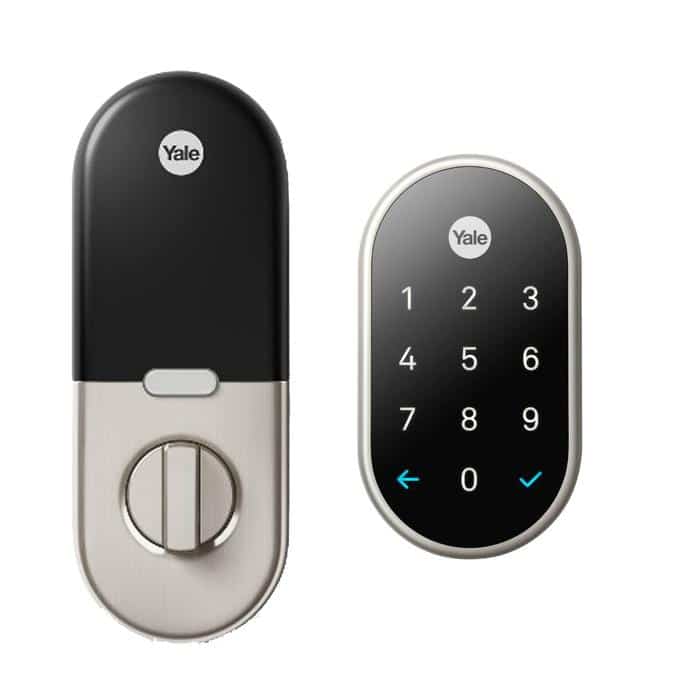 The second biggest downside of the Nest x Yale smart lock is the cost. You're mostly paying for the design and extra functions, and the build quality could be better. This is an issue considering the lock's high price.
If you want a smart lock that blends in with the modern aesthetic of your home, then this may be the smart lock for you.
What we like
Seamless integration with Airbnb for easy check-ins and checkouts of your rental property
August app can be used for door monitoring
Easy installation
Fail-safe connection
What we don't like
Extremely sensitive to positioning on installation
No key override
The Kwikset SmartCode 913 is one of the most basic smart locks on our list. While it is easy to use and set up, the design and interface of the touchpad are dated, and lacking in some of the bells and whistles you might see on competing products. However, if you just need something that's robust and functions well, this is the smart lock to get.
Not needing Wi-Fi to set up the lock is a main selling point as some Airbnb rentals do not have internet access. The lock is also fairly cheap compared to the others on this list, making it an attractive buy for Airbnb hosts.
This Kwikset smart lock is harder to install than other smart locks as the instructions aren't as clear as they could be. If you're not great with tech, look up user-written instruction guides on the internet for this lock. Kwikset's tech support is pretty helpful, too.
What we like
Perfect for big families
No Wi-Fi needed
Easy to use
What we don't like
Outdated design
Despite the name, this lock isn't all that "smart"
Schlage is known for its high-quality locks for hotels and office buildings. They have brought this same lock quality to their home smart lock lineup with the Z-Wave Connect Camelot.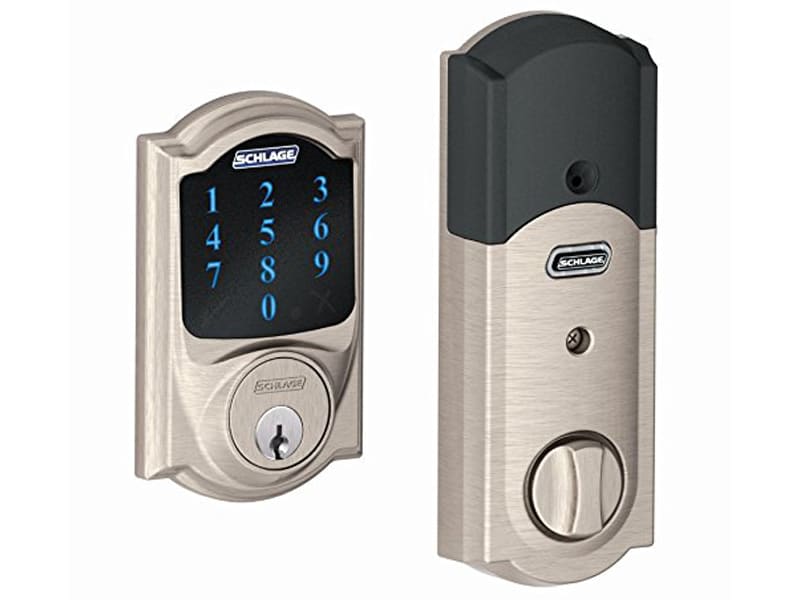 This smart lock doesn't draw attention to itself: The numbers on the unit remain hidden until you press the Schlage button, so in idle it won't light up and waste battery life.
The Schlage Z-Wave smart lock also includes a built-in alarm to warn you of unwanted visitors. Along with the alarm, the lock has other functions such as auto locking and beeping on open. And even with all these features, its battery usage is efficient. Some users report that a single battery with normal use lasts up to one year.
Some users report moisture getting into the control module, so if your Airbnb is in a humid climate, then this may not be the smart lock for you.
What we like
Works with Alexa via SmartThings, Wink, or Iris
Built-in alarm system
Efficient battery usage
What we don't like
Only for US and Canada
Bulky design
Last but not least is the Samsung SHS-3321 smart lock. This sleek smart lock is perfect for Airbnbs concerned with design aesthetics.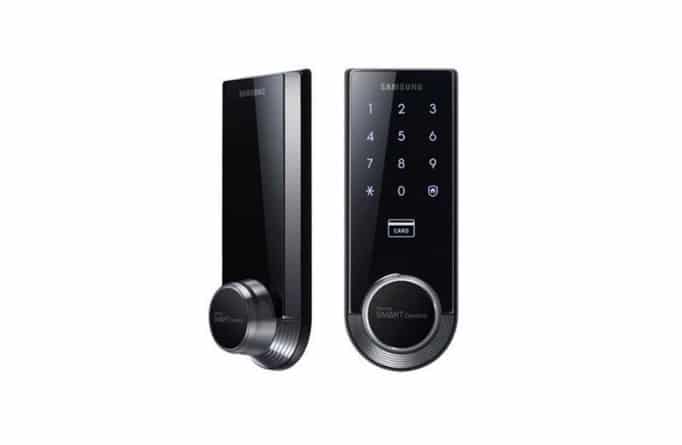 This Samsung lock has all the features you would expect from a high-end lock, such as good design, Wi-Fi connectivity, ability to add multiple codes, and automatic lock and unlock modes. The only real complaint about this lock is the installation, as you have to torque the backplate correctly.
Other than those few quibbles, the Samsung SHS-3321 is a reliable smart lock for your Airbnb rental.
What we like
Can use an RFID card
Digital touchpad
Loud built-in alarm
Great design
What we don't like
Weak motor compared to competing devices
Installation is harder than it has to be
4 Major Factors to Consider Before Buying a Smart Lock
Let's break down the major things to look for when choosing the perfect smart lock for your Airbnb rental.
1. How easy it is to change the code
Believe it or not, there are bad people out there who may want to access your property after they have checked out of your Airbnb. Making sure the code can be changed easily will save you lots of time, and you won't have to worry about previous guests re-entering the rental.
2. How easy it is to adjust the lock to fit your door
If every door and lock were built to a standard dimension, it would be easy to fit a deadbolt lock to your door. But they are not. Some are not aligned correctly, and some holes in the doorframe are not deep enough to accommodate the deadbolt rod.
Make sure you are either buying the right spec for your door or that the deadbolt on your smart lock is adjustable.
3. Durability and weather-proofing
Airbnbs endure a lot of use, and your smart lock needs to be able to withstand that heavy load. Make sure your Airbnb smart lock is built of quality materials that will stand the test of time and the elements.
4. Integration with existing smart home devices
With so many different home automation kits out there these days, you need to be sure your smart lock will work with your existing home automation protocols.
When you buy a smart lock that integrates with your other smart home devices, you can see who is coming in and out of your Airbnb with cameras, see check-ins and checkouts, and even change the code. How easy is that!
FAQs About Smart Locks
We know you have lots of questions about smart locks, so let's go over some of the most common questions we get about using smart locks for an Airbnb rental.
How do smart locks for Airbnb work?
Using a smart lock for your Airbnb rental is quite simple. Once you've installed the lock, all you need to do is set a code, and then tell it to your guest over the Airbnb messaging system once their stay is approved.
This makes it easy because you don't need to physically meet the customer to let them into your rental. Plus, self check-in is something some Airbnb customers look for when choosing their rental, so you may actually attract more bookings as a result.
Do smart locks need Wi-Fi?
Some smart locks need Wi-Fi, others don't. Most of them only require Wi-Fi for setup and not day-to-day use.
Do smart locks need power?
Most smart locks run on an internal battery inside the unit. Once this battery goes flat, you can usually use a 9-volt battery or a key to get in depending on the lock.
Which smart locks are compatible with Ring?
Many smart locks are compatible with Ring, including locks by Schlage, Kwikset, and Yale.
Is there a monthly charge for smart locks?
Nearly every smart lock brand out there is an unmonitored solution to home automation and has no monthly charge.
There may be a premium smart lock out there with a monthly charge, but if there is, we don't recommend it over a regular smart lock. The only monthly charge you should be paying is for your security system and any camera footage you're saving.
Can smart locks be hacked?
Like anything digital, smart locks can be hacked. In this day and age, even your car can be hacked. But should you worry about it? No. The chances of someone with the ability to hack your lock and desire to break into your Airbnb are slim to none at best.
Purchasing a Smart Lock for Your Airbnb
A smart lock is a must-have for any Airbnb rental. A smart lock with self check-in increases the value of your Airbnb property and makes it easier for guests to access your rental.
Plus, it frees you from scheduling around your guests' arrival and departure times, making your life easier as an Airbnb host. Not to mention that smart locks give you more control over who has access to your property and makes your home or rental more secure.
We hope our picks for the best smart locks for Airbnb rentals have made your purchasing decision easier. Just make sure you keep the factors in mind before choosing your smart lock. Choosing the wrong one could be a costly decision that is easily avoidable!