Deadbolt locks also offer some fantastic smart technology features and add a real sense of modern fun to your home security. Here is our guide to understanding and choosing the best keyless deadbolt for your home.
The Yale Real Living Keyless Touchscreen Deadbolt offers so many amazing features that you would never guess a door lock would have. The well-thought out use of technology, advanced access control, smart integration, style, and overall design makes this product our best overall pick.
Yale is a well-trusted brand that has been leading the lock game since 1843. This capacitive touchscreen lock is an excellent example of how modern technology can be used to turn your home into a more sophisticated and safe environment. It uses Z-Wave technology to pair with the Amazon Echo so you can integrate it into your home automation or alarm system.
The lock has a rubber seal to protect it from the elements, a motorized tapered deadbolt, and a three-volume control option. It allows for keyless entry for up to 250 user codes, and it features a 500-user event history when integrated with the controller. On top of all of this, Yale's deadbolt is slim, stylish, and well-designed all around.
What we like
Bright, responsive touchscreen keypad: The number pad can be seen easily even in full sunlight.
Compatible with many devices: Thanks to the Z-Wave module, the lock can tie into a Z-Wave hub so you can link it up with other devices like lights and thermostats.
Aesthetically-pleasing design: Its lean and modern appearance helps it blend in better with your house than most keypad locks.
Easy to operate: One-touch locking means simply tapping the touch screen on your way out will automatically lock the door.
What we don't like
Installation is easy, but software setup is more complex and setting up the codes can be a chore
Not the cheapest option on the market
The Schlage FE575 CAM 619 ACC Camelot Keypad is a simple keyless deadbolt that works well and does exactly what you want it to do. Schlage's product uses a six-digit code to unlock, and codes can easily be added or deleted right at the keypad using a programming mode.
The device's build is simple and solid, and it is available in a variety of colors and finishes. It can fit doors of a thickness range of 1.375 inches to 1.75 inches. As it is straightforward to install, this is a good pick for people who want a simple keyless solution in their home.
The keypad features a handy auto-lock that relocks the bolt after only five seconds. This adds an extra element of security. At night, the keypad lights up so that you can easily use it in the dark. There is also a low battery indicator to make sure you are never left without power in your lock.
Simple, secure, attractive, and well-built, Schlage's Camelot keypad offers you a convenient keyless lifestyle while keeping you safe and secure.
What we like
Easy installation: With just a screwdriver you can get the job done in a matter of minutes.
Great for small businesses/large families: with up to 19 programmable codes, every employee can have their own code to gain entry.
ANSI certified grade 2: Rated among the toughest residential locks on the market.
Completely weatherproof: Withstands exposure to harsh weather like rain, snow, and sunlight while resisting abrasion and corrosion.
What we don't like
Short battery life: Batteries are reported to only last a few months at a time
4-digit code limit: Would be nice to allow for longer access codes
Bulky: not the most attractive addition to your door
Kwikset's 907 Powerbolt 2.0 Electronic Deadbolt offers stylish convenience and simplicity in home security. Simply install this lock on your door to enhance your lifestyle and take your home security to the next level.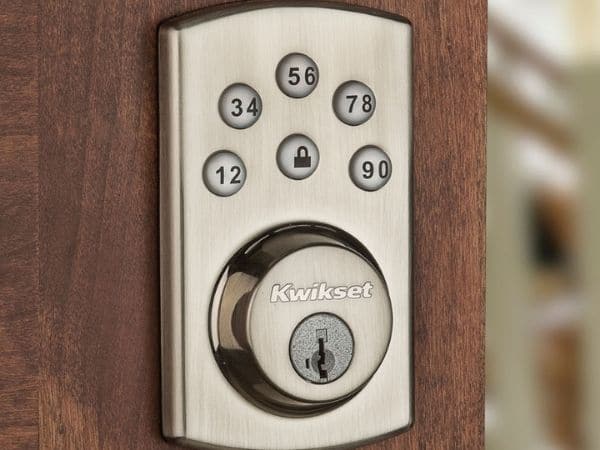 The Kwikset powerbolt lock features a one-inch deadbolt throw. It is also ANSI/BHMA grade 3 certified, so you know it is a quality mechanism. The adjustable backset can fit all standard door preparations. We love this lock: It's easy to use, easy to install, and more affordable than most of what's out there.
With SmartKey re-key technology, it takes only three simple steps to easily re-key the lock yourself. The lock can hold up to six individual user codes for your family, and it uses a simple one-touch auto-lock function with no turning and twisting required.
If you can never remember whether you locked the door when leaving your house, this device is for you: It can be programmed to auto-lock in 10 to 50 seconds.
What we like
ANSI/BHMA grade 3 certified: Meet most residential building requirements, but best used on secondary entry points.
SmartKey re-key technology: Re-key the lock yourself in seconds, leaving lost or unreturned keys obsolete.
Very easy to install: Can be installed within 10-20 minutes depending on modifications needed for the door.
Easy programming: Once you clear the default code and replace it with your own, programming the rest is a breeze.
What we don't like
Some plastic components: You may want to upgrade to a lock with all-metal parts if you want something that can really take a beating.
Removing the battery can be difficult: Takes some strength to remove the battery cover.
Schlage's Z-Wave Connect Camelot Touchscreen Deadbolt comes with all the bells and whistles that modern technology has to offer. If you want to upgrade your home with new standards of sophistication, style, technology, and security, then we recommend installing this touchscreen deadbolt.
This product works with voice control and is compatible with Alexa via SmartThings, Wink, or Iris. When you combine this product with an Alexa device and hub, the voice-control feature is amazingly convenient.
The keypad is fully touchscreen with a lock cylinder on the exterior of the door and a thumb turn on the interior. The keypad can store up to 30 different personalized user codes at one time, allowing multiple people to access the door.
Z-Wave technology allows you to connect this lock with your home automation system. Through Z-Wave, you can lock and unlock your door remotely via the internet or on your smartphone. It is a great tool to make life a little easier.
The lock also comes with a built-in alarm boasting three different alert settings for an added level of security. The construction of this product is durable, and it meets the ANSI grade 1 standard (the highest level in residential security).
If you are looking for a lock with great technology integrations, this one does it all. We highly recommend it if you are looking for something special to add to your home.
What we like
Easy installation: Takes about 15-20 minutes to remove the old deadbolt and replace it with the new one.
Integration Options: Works with SmartThings and Wink Hub 2, enabling possibilities like voice control.
BHMA Grade 1:This lock has the highest security rating given to residential locks.
Touchscreen: Works great and is quite responsive
What we don't like
Prone to damage caused by humidity
Lack of detailed instructions for programming
Must be installed correctly to keep the battery from draining quickly
The Kwikset 99130-002 SmartCode 913 UL Electronic Deadbolt offers you more than just a regular keyless lock. While you can access it through keypad codes, it is also a smart lock. This means that it is fully compatible with your home automation system, allowing you to lock and unlock your door remotely through your smartphone for added convenience.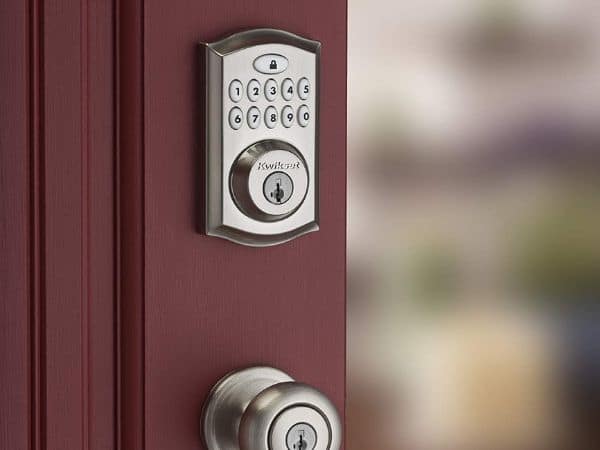 For more peace of mind, you can use a key on this lock, too. The backlit audible keypad is easy to use in the dark, and it gives you the option of 16 different customizable user codes to use at one time.
This product features one-touch locking with a 30-second auto-lock function. It fits all standard doors and is easy to install—no need for specialized tools and knowledge. It features stainless steel SmartKey cylinders, as well as a patented side lock bar.
The lock is BMHA grade 2 certified and UL certified, and it has a 20-minute fire rating. The lock is bump-proof, and the deadbolt is tapered. This lock is great if you're looking for a lock that is functional and durable.
What we like
Long battery life: Batteries last at least several months before having to replace them.
Easy to install: As long as you follow the manual, you shouldn't have any issues.
BMHA grade 2 certified:Sturdy construction means this product is great for main entryways
Optional "Auto-Lock" feature: Great for automatically locking the door behind you after 30 seconds.
What we don't like
Instructions can be unclear in places
Replacing batteries or reprogramming codes requires removing screws
What is a Keyless Deadbolt?
A keyless deadbolt is a type of lock that you can install into your door for an enhanced lifestyle and security at home. No physical key is required on these locks. Instead, keyless deadbolts use a digital code to unlock your door. Some models feature a keypad, while others have a touchscreen to enter your code.
Keyless deadbolts run off battery power, which means they are not affected by unexpected power outages. Depending on the make and model you buy, many can integrate with home security systems and connect to your alarm to offer a more comprehensive safety solution for your property.
Keyless deadbolts can do more things than one would expect from a lock. The main benefits are that they offer increased security measures, add an extra element of style to your home, and make your life easier.
No more fumbling around for keys hidden in your pocket or handbag when you already have your hands full with shopping bags or your laptop.
How Does a Keyless Deadbolt Work?
A deadbolt securely locks your door. It can be opened electronically through entering a keypad code, using a remote control, or even using a card reader. It eliminates the need for a key, improves your level of control around who can unlock your door, and simplifies your life.
Some keyless deadbolt locks can integrate with home automation and smart assistants such as the Amazon Echo and Apple's Siri. These locks can be connected to an app on your smartphone, which gives you that extra level of sophisticated control over access to your home.
Through Bluetooth technology, some locks can open automatically when you (and your phone) are within a certain radius of the lock. This is handy when you are unloading your groceries out of the car and have to make several trips into the house.
Apps that integrate with your keyless deadbolt also allow you to open and lock your door remotely. This means that if you need to let somebody in but aren't at home, you can use your phone to let them in.
What to Look for When Buying a Keyless Deadbolt for Your Home
Check the Technology Integrations
Many smart locks offer connection and integration with different platforms. Before purchasing your deadbolt lock, consider the different devices it can connect to and whether it will integrate into your existing smart home technology and home security system.
For example, some locks work with Apple HomeKit (you can control them through Siri), and others through Amazon's Echo. Some may come with smart apps that can be used to provide access to the home, while others only provide simple code entry.
Low Battery Display
Some locks are great at telling you when they are about to run out of battery power. This is an important feature, as you don't want to be stuck without access to your home.
The best electronic keyless deadbolts will let you know up to 10 days in advance to change the battery. Warning signals such as beeping alerts, flashes, or a displayed message will signal that a replacement should be made.
Alarm System
Some smart locks come with the added bonus of integrating with your home security system and are capable of activating an alarm. This will quickly alert you if somebody is trying to break in.
How Many Users Can Access It
Access is everything when it comes to deadbolt locks. You want your lock to keep people out, but you also want it to let certain people in.
Some locks are great for single users as they conveniently pair to your phone. But they may not work quite as well if you need to grant access to your entire family.
So if you are looking for a deadbolt that will work just as well for all your loved ones, make sure it has multi-user capabilities.
ANSI and BHMA Designation
The American National Standards Institute (ANSI) uses a rating system to rank locks. If your lock has an ANSI grade 1 rating, it means the lock is built with the highest levels of quality and superior design.
The Builders Hardware Manufacturers Association (BHMA) develops and maintains these standards. The BHMA rating is based on the security and durability performance of the lock. Having a high rating in this category ensures a better-quality product.
Buying a Keyless Deadbolt for Your Home
These safety mechanisms give you top-notch security and enhanced convenience for your home. When considering which keyless deadbolt to buy, think about who will be using the lock and how they will be accessing it.
Look for a lock that will integrate with your current home automation and security systems—if these all work effortlessly together, you'll make your life simpler.